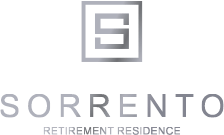 LEARN MORE ABOUT THIS ONE OF A KIND PROPERTY
Please fill out the form below and we will be in touch to provide you with more detailed information.
NOW OPEN!
RESORT STYLE LIVING, 365 DAYS A YEAR
With its uniquely vibrant and contemporary design, life at Sorrento Retirement Living means being surrounded by natural light, beauty, and amazing views. It's about spending time with family, making new friends and looking forward to new possibilities. It's about living with purpose and reigniting your sense of discovery. Featuring 140 stunning suites, beautifully appointed amenities, and unparalleled service, Sorrento brings luxury retirement living to downtown Bolton.