Retirement communities provide an abundance of activities and lifestyle options to help seniors live their best lives. However, whether you're an independent senior looking to move into a retirement community or doing research on behalf of your loved ones, you may not know where to start as you assess your options.
Overall, the goal is to have access to any necessary care while at the same time living in a pleasant environment and taking part in fun and healthy activities. In fact, many residents of retirement homes and assisted living facilities report feeling that their life is greatly improved, which is often derived from the feeling of belonging within a new community. An added bonus is having the peace of mind that comes from knowing that they always have the support they need.
There are many types of senior-living communities. We can help you understand the differences between them and whether a retirement community is the right choice for you.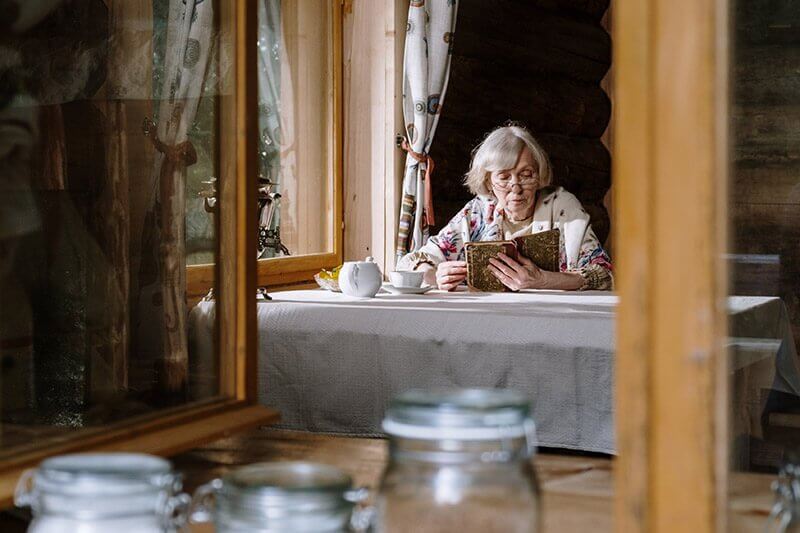 What Are Senior-Living Communities?
A senior living community is a broad term that includes a variety of senior care and housing arrangements that offer different levels of support with fewer or more amenities.
Some senior-living communities do not provide medical assistance and amenities, whereas others provide limited assistance for every-day tasks. Knowing the level of care you or your loved ones need is a great start when determining the right type of senior-living community to join.
Nursing & Care Homes
Nursing and care homes help seniors who are recovering from an injury or acute illness. They also provide care to patients requiring long-term assistance. Mobility, personal care, and medication management are the main areas focused upon by these types of homes. Patients also have access to opportunities where they can learn, experience, and grow.
Memory Care
A memory care community provides assistance to individuals suffering from mental illnesses due to age, such as Alzheimer's and dementia. The community provides 24/7 personal care, state-of-the-art security, calm atmospheres, and staff who are trained to manage the wide range of symptoms.
Independent Living, Assisted Living & Retirement Communities
For seniors in their 60s and up, independent living communities are suitable for people who enjoy a care-free lifestyle with an independent environment that offers services and amenities when needed.
This includes:
Transportation

Housekeeping

Maintenance

Fine Dining

On-site Events

Fitness and Wellness Programs

Educational Programs
Assisted living offers the same services and amenities with the addition of medical services and assistance with everyday tasks. It doesn't always come with a high level of luxury, however. 
Retirement communities like Sorrento, located in Bolton, Ontario, offer the best of both worlds. Seniors have access to a number of fun and engaging activities, medical care, and everyday assistance all offered in a luxurious package. 
Why Choose a Retirement Community?
Retirement communities encapsulate housing for seniors who need little to no personal care and continue to be active. Retirement communities include:
Senior Apartments

: Apartment buildings that provide housing and common areas, but usually do not offer any assistance. 

55+ Retirement Communities

: Seniors 55 and up live in homes or apartments where the maintenance is taken care of by on-site staff. 

Continuing Care Communities

: Seniors benefit from a range of services for independent living or 24/7 medical care. 
The best retirement community provides a sense of belonging that residents can feel through location, members of the community, and the activities available to them.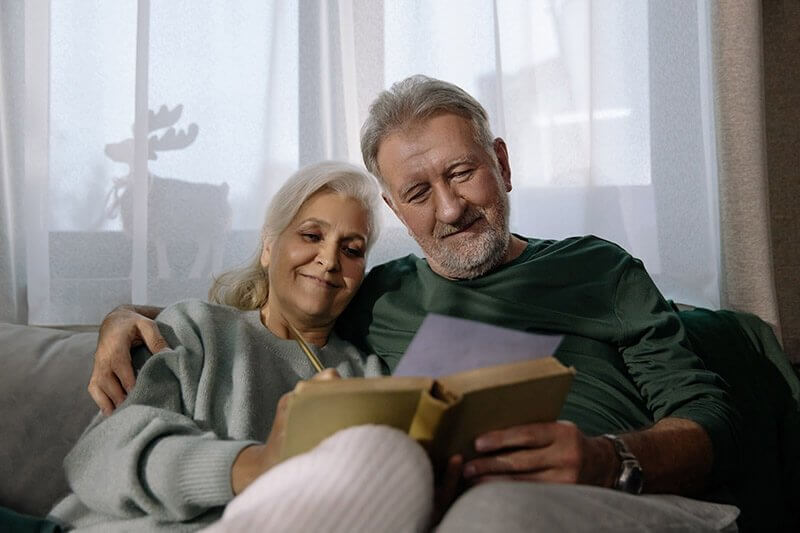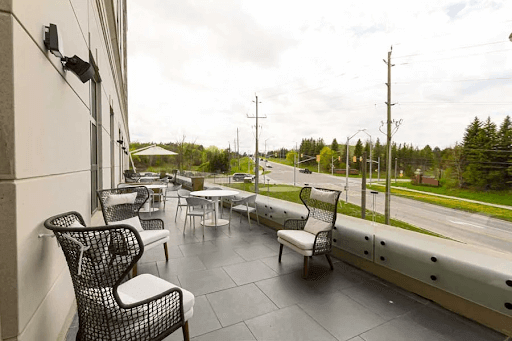 The Experience
Choosing a retirement community can take some time because each residence offers so many activities. Think about what you or your loved ones need and want. Are they able to live with and take care of their pet? How much personal care do they require? Does the facility provide on-site exercise classes or artistic workshops?
Residents at Sorrento are permitted to move in with their furry companions or welcome a new one to their family whenever they like. Staff can help provide pet feeding, housekeeping and dog walking services if residents are unable to perform these tasks themselves. 
Sorrento has an assisted living floor for residents requiring skilled nursing services. Each senior works with a staff member to design the best care program for their needs. They have access to personal care services, including bathing and dressing, consult with an in-house physician, and arrange for other professional visits for physiotherapy and massage therapy.
FITNESS & WELLNESS PROGRAMS
We can also design a restorative or fitness program to help individuals get back in shape through yoga or aquafit. Sorrento offers a wide range of events and classes for creative and intellectual pursuits. Seniors have many ways to improve their mind, body, and soul.
Being there in-person is often the best way to finalize your decision. Contact and book an on-site visit to have your questions answered and get a feel for the place.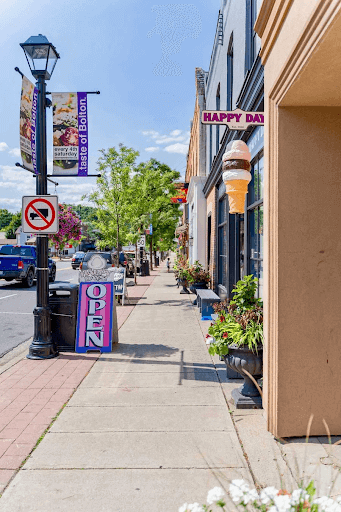 Location
Retirement homes are not always located in ideal spots, so it's essential to visit the area. If you're new to Bolton or Ontario, is the weather agreeable for a permanent move? Some people may prefer a warmer climate year-round. 
While a retirement home has various on-site amenities, many residents will want to do some activities outside, such as dine out or shop.
BOLTON, ONTARIO
Residents love Bolton for its village-like characteristics. Sorrento is close to the downtown core, so residents can walk over and window shop or visit the many green spaces in the area, including Foundry Park and the Albion-Bolton Fairgrounds. 
Sorrento itself is located amid tranquil residential streets, allowing for residents to enjoy calming walks together or with their dog. We have individuals coming from all over Ontario to join the Sorrento Retirement community, including:
Toronto

Woodbridge

Orangeville
The People
It can be lonely without a strong group of friends to connect with as you get older. While there are many ways to stay connected and stay active, one great option to connect with others is to move to a retirement community.
Retirement living encourages everyone to engage with the community, whether they're single, widowed, dating, or living together. Being in the same age range means that it will be much easier to find people who have had similar experiences, which allows for new bonds to be made. You won't feel quite so out of step with the world when you move to a senior community.
A ROTATING SCHEDULE OF ACTIVITIES
With so many classes available at Sorrento, residents come together over common interests and passions, whether it's a love of world-wide cuisine, great works of fiction, or friendly competition over Scrabble.
FAMILY & FRIEND VISITS
Sorrento also has spacious private kitchen and dining areas where residents can organize a private meal with their loved ones. Whether they do the cooking themselves or opt for our chef-prepared dishes, Sorrento's private areas are suitable for big family gatherings, including bridal showers and birthday parties.
What is the Cost of Living in Retirement Communities?
The cost for living in retirement residences across Ontario vary according to many factors, including:
Seniors are often given a choice of suite size and layout that consists of:
Studios

One bedroom

One bedroom with a den

Two bedrooms

Two bedrooms with a den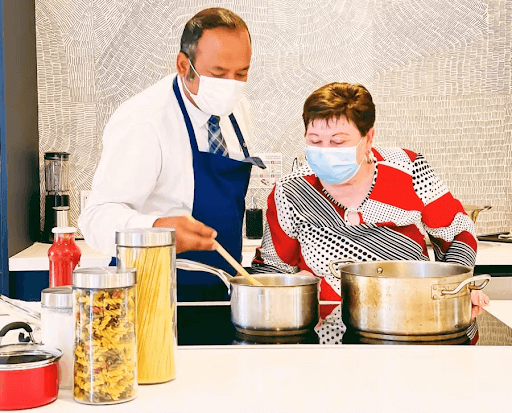 Luxurious retirement residences, like Sorrento, will have suites that come with many additional features that make everyday living more accommodating. Sorrento has suites that come with a kitchenette, a large bathroom with safety features, and an independently controlled HVAC system. Size and layout depend on the potential resident's needs and preferences.
As we mentioned above, not all senior living communities offer the same amenities and on-site services. High-end retirement communities provide many features to ensure residents don't need to venture too far. You will find on-site services generally consist of:
Hair and Beauty Salons

Lounges

Libraries

Private Dining Rooms

Transportation

Fitness classes

Therapeutic Services

Pool

Gym

Doctor's Office

Games Room

Craft Kitchen

Bar and Bistro
Some services, like transportation, may be an essential need for the potential resident, so be sure to compare each retirement home's service offerings.
When exploring the retirement community in-person, look at security measures taken in the suites, particularly in the bathroom and front door. What is required to enter the suite? Some residential facilities have moved away from keys to favour passcards.
Many residential homes charge an additional monthly fee for cable, in-suite internet, and phones. Some seniors may not watch any television or already have their own cell phone, which can help to reduce the costs.
If you're considering moving to Sorrento, call us today to discuss our pricing!
Join the Sorrento Retirement Home
Sorrento provides 24/7 assisted living to cater to the various needs of its residents. We also offer lifestyle services, from pet services to transportation to customized options. The Sorrento staff are here to make you feel at home.
Decide if we're the right retirement community for you or your loved ones by booking a tour today!